Methyl stenbolone
CAS NO: 5197-58-0
MF: C20H30O2
MW: 302.455
Melting Point: 154-156°C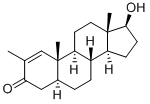 Purity: 98.5%
Appearance: White crystalline Powder.
Storage Condition: Refrigerator

USED:
Methylstenbolone is a pretty harsh compound so going at a cycle without support is just nuts.
Methylstenbolone is a powerful prohormone that will add serious mass like no other prohormone on the market today. Methylstenbolone will add dry mass gains and shouldn't be cycled for longer than 4 weeks.


Side Effects:
Methylstenbolone has some side effects but can be reduced by using the proper support suppleMENTs like PCT and liver support.

Cycle 1 – Ideal cycles for new prohormone users.
Week 1: 4-6mg per day
Week 2/4: 12mg per day